Welcome To
Whangamomona Accommodation
Yours hosts at Whangamomona Accommodation are Pork and Ceri, we are farming sheep and beef in the Republic along with the bnbs in Whangamomona village. We have 4 children and 2 grandchildren. It was Porks idea to "give the Mrs a house in town and give her something to do off farm". It's all good as we love it. Getting the houses ready for guests is a favourite part of looking after them. We have been running for 5 years with the Butcher Shop finally ready for the 2017 season.
Accommodation
Whanga Bridge House & Whanga Butcher Shop
Self-hosted, intimate or group accommodation options available to suit your needs -we look forward to your arrival
Whanga
Bridge House
Single $100 per night | Double $150 per night | Entire House Price Available | Includes Breakfast
The Bridge House situated in the heart of the tranquil village of Whangamomona in Taranaki, New Zealand. This 1920's cottage was originally a New Zealand Railways house and was moved to the present site in 1965. Fully renovated in 2013 it is now a self-contained comfortable cottage with a large deck area to relax and unwind.
With all the comforts of home and a few special touches, this accommodation is available to book individual rooms or the entire house, which sleeps up to 8 guest, across 4 rooms. Please contact via email for entire house rate. There is also purpose built horse pens for those who would like to trek the popular Whangamomona Road.
– Barbecue – Gas
– Two Toilets
– Electric Blankets
– Fireplace
– Freeview (TM)
– Fridge
– Highchair
– Microwave
– Oven
– Shower
– TV
– Washing Machine
Whanga
Butcher Shop
Single $100 per night | Double $150 per night | Includes Breakfast
The Butcher Shop is a historic building rich in history and character. based on the main street of Whangamomona, Taranaki, New Zealand. We acquired the building 5+ years ago and have extensively renovated the property to the  current cosy and comfortable cottage it is.
It is fully furnished, with a fully stocked kitchen which will allow you enjoy the facilities on offer and truly relax in this remote location. Accommodation sleeps 2 in bedroom, a double bed in lounge and a sofa bed also in lounge. With a library of books for you to enjoy reading and games stacked on the bookshelf for a fun night in. Indulge, enjoy and relax in this unique accommodation all to yourself.
– Sleeps up to 6
– Full kitchen
– Electric blankets
– Fireplace
– Freeview (TM)
– Fridge
– Easy access
– Microwave
– Oven
– Shower
– TV
– Entire property
Whangamomona
Adventures & Events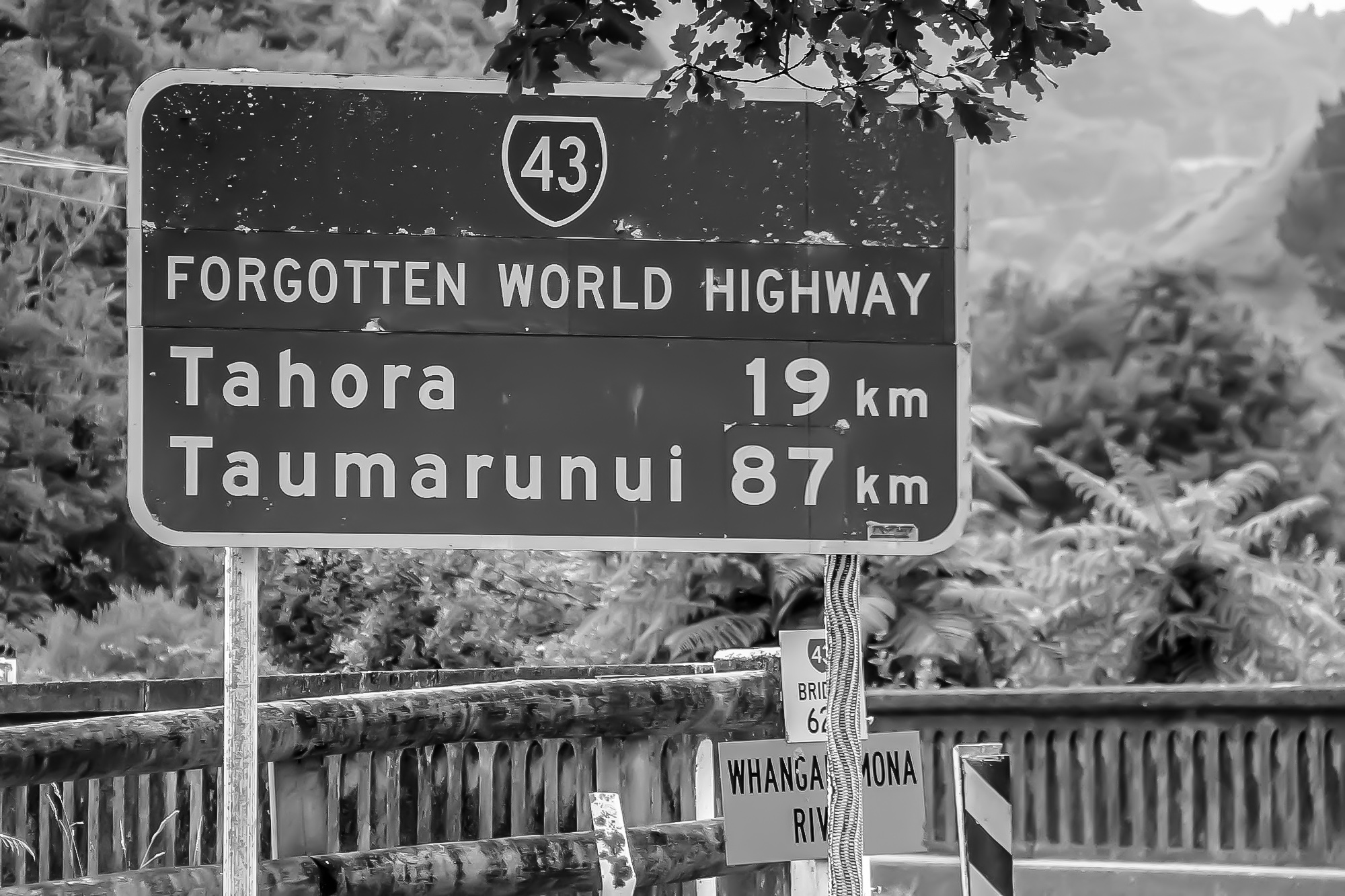 FORGOTTEN WORLD HIGHWAY:
This iconic 150 km long Highway joining Stratford and Taumarunui, has 20 heritage sites of interest along the way. Covering rugged and natural countryside the road travels over the Whangamamona, Tahora and Strathmore saddles, with several attractions off side roads. The journey gives travelers an awareness of the historic earlier days – includes sites such as riverboat landings, ritualistic Maori poles, a coal mine, a brick kiln, water falls, tunnels and historic settlements. Fill the petrol tank before you head off and enjoy the scenery along the way!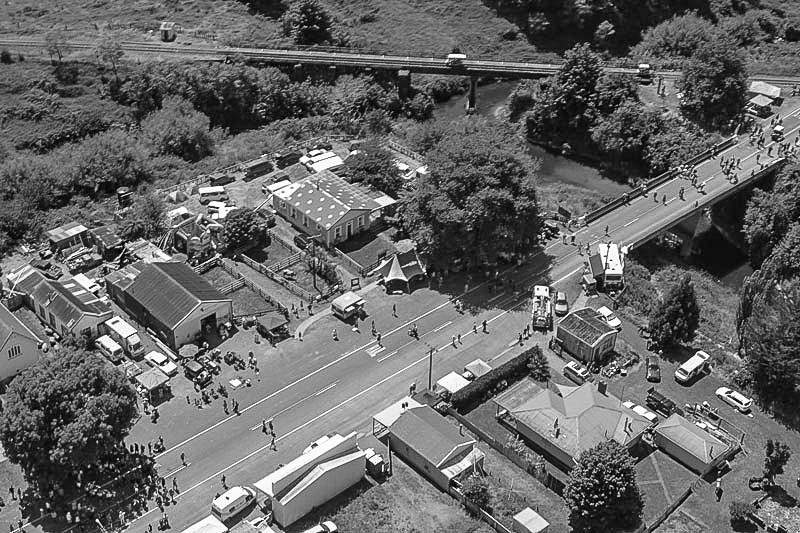 WHANGAMOMONA REPUBLIC DAY:
On the 1st of November 1989 Whangamomona declared its independence as an objection to a map revision moving the area to the Manawatu-Wanganui Region, rather than its preferred Taranaki region.  There is a biannual celebration held in January to commemorate the independence. The event attracts large crowds for a fun filled day of action, Pork on possum skinning, Sheep shearing, Eel counting and Whip cracking. With the main event of the day being the Elections. Our current President is our good friend John Herlihy and he does a great job for our community.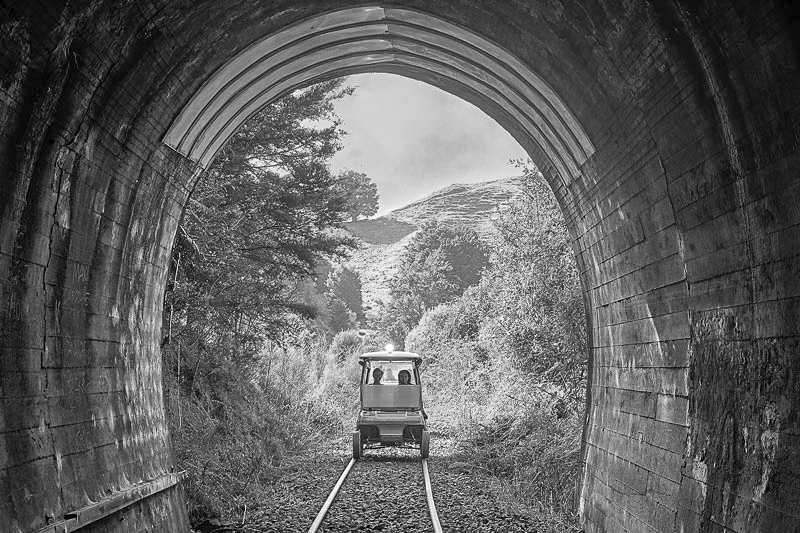 FORGOTTEN WORLD ADVENTURES:
Discover the scenery & history of the Forgotten World in a truly unique 'soft adventure' experience in the Ruapehu region.  Hidden within the Forgotten World for close to a century, 140 kilometres of abandoned railway weaves through the historic & rugged landscape between Okahukura (near Taumarunui), through Whangamomona & on to Stratford. Over 98 bridges & through 24 hand-dug tunnels, whether it is on the railway by RailCart or RailBike, or along the Whanganui River by JetBoat, Forgotten World Adventures are for those young at heart.  BOOK HERE
REVIEWS
What Our Guests Say
"Wow!! What a spot! Smack dab in the middle of town (albeit a small town), stumbling distance from the pub, log burner to keep you warm, beautifully renovated space and some really beautiful personal touches. 10/10, we'll be back!"
Greigh -
"This was a fabulous place to stay - cute, comfortable and in a fantastic location - an excellent stop over point on the Forgotten World Highway. Breakfast provisions were very generous. We had a great night here."
Anne -
"We really enjoyed our motorbike ride through the Forgotten World Highway. This was a great place to stay, well set up, just a short walk to the pub which has great food. Would recommend to others, stop for a night at Whangamomona. and enjoy."
dening284 -
We had a great time staying here at the Butchers House in the Republic of Whangamomona! Well done Pork & Cheri, you've got a winner here. Highly recommended!
Kane Ansell -
Great place to stay in Whanga, spacious & beautifully decorated, with NZ themed pieces. Big deck to enjoy the outdoors - even if it is raining.. Good location on the main road, and handy to the river/bridge & the rail carts.
Tony, Lynda & Jayden -
Thanks Ceri & Pork we had a fantastic stay at Whanga house. I have to say all the little touches are fantastic ... I would recommend this place to anyone it's fantastic ... Ceri is great to deal with I wish them all the best.
The Tirau Six -
Location & Contact
How To Find Us & Get In Touch
Don't hesitate to use the form our contact details to get in touch.: